Large Size Polishing Machine (HJ1-300)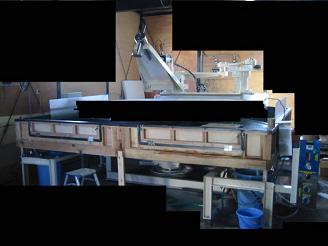 【Features】

This 3000 model polishing machine is the ultimate machine built with all the consolidated polishing machine designing and assembling technologies and expertise Udagawa has.
It can polish spherical and flat lens surfaces of up to 3000mm in diameter.
The total weight of the machine is 5.5t.
The triangle arm itself weighs approximately 400kg, but adding a special device can make it as light as it can be moved up and down only with one hand.
During the transportation within the country, due to relevant traffic laws and other restrictions, the machine body size is reduced to 2000mm in width x 4000mm in length, however, once all the components arrive and are installed at a user site, they can be put back together into a completely framed machine.
As for the number of rotations of the Tommy-bar swung lower plate, in consultation with the user, we can achieve the optimum number of rotations at the change gear ratio of 6 times.