Small Size Curve Generator (UTS-Ⅲ)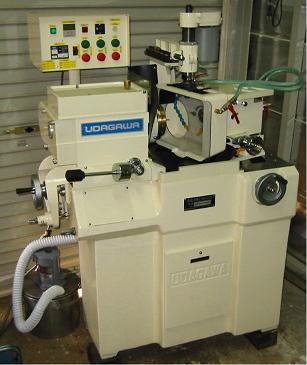 【Features】

1) This is a horizontal type machine with a rigid structure and excellent accuracy and operability. The adoption of the spring and weight-based pressurizing method allows the machine to do safe and secure grinding operations.

2) The medium size type equipped with a reinforced grinding wheel spindle is also available.

3) Our collet chuck can reduce the variations in thickness down to +/- 1/100mm, regardless of the variations in outside lens diameter.

4) The machine is equipped with a user-friendly spherical correction device that can adjust the accuracy of the spherical shape.

5) By setting the timer, the end of work can be indicated with a red light and buzzer alarm.

6) An additional UE1-B chamfering attachment can be installed if requested.

7) The coolant tank with casters is easy to handle.

8) Body dimensions and weight
width: 1000mm, depth: 590mm, height: 1300mm, weight: 400kg

* The image shows a "manual curve generator."
"Fully automatic curve generators" are also available.